Doctors' Day and Nurses Day are both opportunities for hospitals, medical clinics and healthcare offices to show their appreciation to their Doctors and Nurses who do such an outstanding job taking care of everyone's health.
Che Bella Nota has designed some brand new cards for these two important holidays for 2018, which are displayed below. Following these are some of Che Bella Nota's best sellers and popular cards for Doctors' Day and Nurses Day from previous years. Please look through all of these card designs, and then come to visit my shop on Greeting Card Universe at www.greetingcarduniverse.com/chebellanota to see my entire selection of medical cards.
NEW DOCTORS' DAY AND NURSES DAY CARDS FOR 2018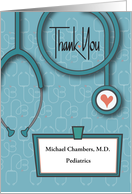 DOCTORS' DAY CARDS:
NURSES DAY CARDS:
Che Bella Nota wishes all of the Doctors and Nurses a Happy Doctors' Day and Happy Nurses Day this year!