Che Bella Nota has created some very fun and unique photo cards in which you can place a digital photo of your family, your business employees, another special person or yourself.  Merely drop in your photo when asked, as you order your card from Greeting Card Universe in Che Bella Nota's selection of cards.
Samples of some of these outstanding cards for Holidays appear below:
Other photo cards for other occasions include: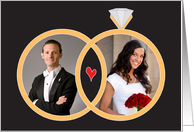 Wishing you all a very Happy Holiday!